Playing with the Oculus Quest: consumer VR has arrived
I recently bought the new Oculus Quest VR headset and it's incredibly impressive. I'm convinced that this will be the year that consumer VR goes mainstream and I suspect the Quest will be the smash hit this holiday season. The surge of new adopters will lead to more startups and investment in VR content kicking off a positive feedback loop drawing in new customers and content creators.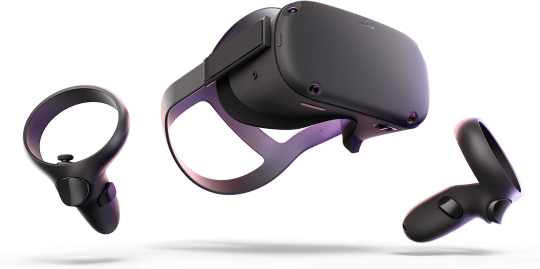 I've been playing around with VR for years and while I've always believed in its potential there were very real drawbacks preventing wide spread adoption:
Expensive: maybe $2,000 including the headset and a powerful computer
Poor quality, due to low resolution screens, unreliable sensors, and / or a long cord that was a tripping hazard
Onerous set-up: room-scale VR required positioning sensors around the room and dragging the controllers around the floor
The Quest overcomes most of these:
$399 starting price, same as a video game console
Decent resolution screen and great controllers
Room-scale without external sensors (there are cameras on the headset)
The experience is magical, you just put on the headset, without any cords and immediately in a rich virtual environment. The quality of the room-scale experience is phenomenally immersive and I've enjoyed friends and family jump in and be blown away.
While previous generations of VR felt like a cool gimmick, I anticipate using the Quest almost every day for a combination of exercise (finally fun!), entertainment experiences, and social spaces. Hopefully I'll have an opportunity to design to VR experiences as well.
Despite loving the Quest so far, there are a few downsides:
The current content library is a little small and a bit overpriced, though I expect that to change rapidly
A lot of the UX in both the OS and apps is clunky, but I'm sure these will improve quickly
The headset is a bit heavy and uncomfortable after an hour of use
These are fairly minor quibbles, though, especially compared to past generations.
If you've been considering getting into VR, now's a great time to jump in!