I'm taking a short trip to Mexico City and aim to do daily blog posts; I really enjoyed blogging my Japan trip last fall.
This trip is a last minute with my roommate Adam and his friend Sara. We have almost no plans and are making it up on the fly.
After arriving at 6am on the red eye from SF and immediately fell asleep for a few hours at the hotel. Once awake we walked down to Chapultepec, a large park in central Mexico City. The park is full of museums and we spent many hours at the Museum of Anthropology; the museum has fantastic exhibits on the indigenous civilizations that have inhabited Mexico.
Here's a shot of a reconstructed Mayan temple: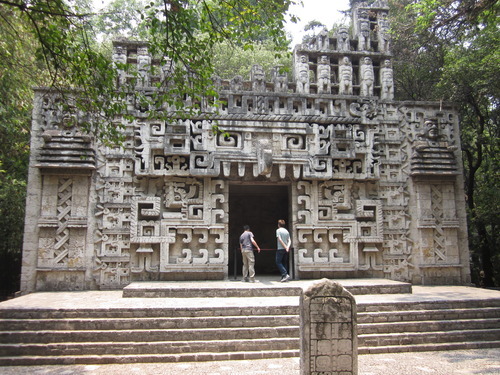 From the museum we walked through the nearby Botanical Gardens and then around the Zona Rosa neighborhood. We then went to a local bar and watched the America vs Pumas playoff game (Liga MX professional soccer) - it was a great game and America won, advancing to the semi-finals.
We're hanging at the hotel now and gathering the energy to go to an Argentinian Steakhouse.
Tomorrow we're planning to explore the city some more but I'm especially excited for Monday when we go to Teotihuacan - temple ruins.