Picking up where last post left off:
The Argentina steak last night lived up to our expectations; it was amazing and sent us right to sleep.
This morning we checked out Zocalo - the 3rd largest plaza in the world. First we toured the Temple Mayor which was the main Aztec temple. The ruins were very cool - each Aztec emperor rebuilt the temple on a larger scale so the ruins were an interesting cross section of all past versions of the temple.
Next we looked in on the massive Mexico City Cathedral - the largest cathedral in the Americas; the scale was impressive though different from the european cathedral (little stained glass).
The Temlpo and Cathedral: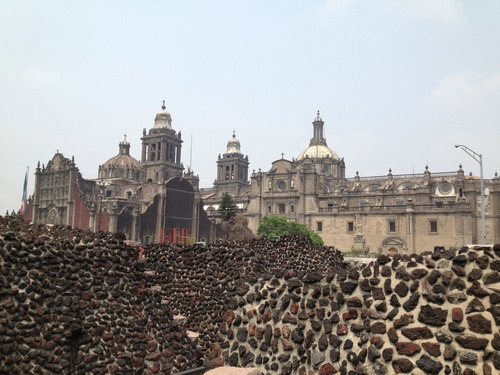 Afterwards we grabbed some delicious enchiladas in mole sauce. From there we went to La Merced - the largest market in Mexico City. They had tons of food, clothing, and appliances and every other stall was playing Gangnam Style.
Next we took the subway (which was nicer than BART) to Garibaldi Square. Garibaldi is where Mariachi Bands wait between gigs but, more importantly, is home to the Museum of Tequila and Mezcal; the museum was decent but the tasting was great.
The rest of the day was nice and calm - an early dinner of tacos followed by a later dinner of posole (a soup) and quesadillas.